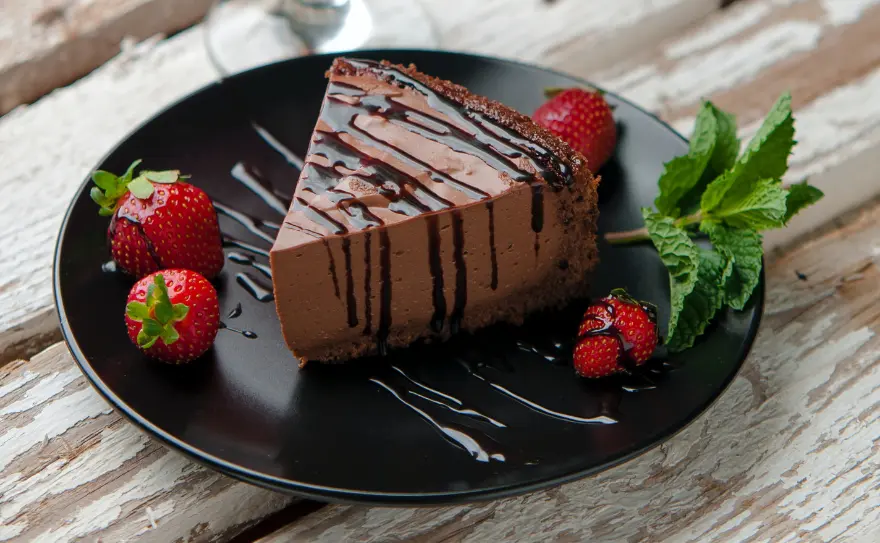 There's nothing like a cold, refreshing ice cream on a hot summer day. But did you know that there are tons of delicious and easy ice cream recipes and quick dessert recipes for every season? That's right – whether it's a warm hot chocolate fudge in winter or a yummy slush or ice cream in the summer, there's a treat for every season!
Few delightful options to whip up easy ice cream and quick dessert recipes at home
Warm delights for cold a winter (Ice Cream and Dessert Recipes)
We've compiled a list of our favourite winter recipes for you to enjoy. From cosy classics like hot chocolate fudge and apple pie to fun new twists on old favourites, we've got something for everyone.
Hot Chocolate Fudge
There's nothing quite like a hot chocolate fudge on a cold winter's day. This rich and creamy dessert is made with chocolate fudge sauce and ice cream, and is perfect for satisfying your sweet tooth. Best of all, it takes just minutes to make. So if you're looking for a delicious and easy dessert recipe for winter, hot chocolate fudge is the perfect choice.
Try London Dairy's delicious Vanilla ice cream to get the right consistency. It has a classic flavour and the ideal texture thanks to the purest, most fragrant vanilla.
Apple Pie
This classic dessert is always a hit in the wintertime. For a twist on the traditional recipe, try adding a layer of caramel or using different types of apples for the filling. Or simply team it with London Dairy's Pralines and Cream ice cream for that perfect blend of caramel sauce with vanilla and crunchy caramelised pecan nuts.
Brownie Fudge Sundae
Try a Brownie Fudge Sundae! This recipe combines the rich flavours of chocolate and fudge with the creamy goodness of ice cream, creating a dessert that is sure to satisfy your sweet tooth. And best of all, it's easy to make! Simply start with a layer of brownies (try the Pristine Brownie Mix for the yummiest brownies), add a scoop of chocolate brownie delight ice cream that is laced with the richness of caramel sauce with lots of chewy chocolate brownie pieces, then top with a rich and hot fudge sauce. If you're feeling extra indulgent, top with whipped cream and cherry or crunchy assorted nuts for the perfect finish.
Fruit Salads
While most people think of winter as a time for hearty, warming meals, there are plenty of delicious fruits that are in season during the colder months. For a light and refreshing healthy dessert recipe, try a winter fruit salad. Apples, pears, and citrus fruits are all perfect for this type of dish. If you want something a little more indulgent, add some whipped cream or a drizzle of honey. No matter what you include, a winter fruit salad is the perfect way to enjoy the season's bounty..
Cold quenchers for hot summers (Easy Dessert Recipes at Home)
From refreshing slushes to indulgent ice creams and milkshakes, we've got something for everyone.
Slush
These delicious fruity cocktails are sure to beat the heat and great for summer sipping. Whether it's a medley of your favourite fruits or a spicy cucumber mint slush, there are so many ways to blend up a satisfying slush.
Ice Cream Floats
Ice cream floats are the perfect summertime treat! Whether it is the good old coke float or flavoured floats like chocolate or strawberry ice cream soda, it is sure to cool down your system and refresh you!
Fruit- based ice creams and sorbets
A refreshing twist on fruits are natural strawberry ice cream or strawberry or mango sorbet ice cream by London Dairy, that is perfect for warmer days. You can also try their Berries 'n' cream ice cream that has a yoghurt-flavoured coating with biscuit pieces and mixed berries sauce for a royal cheese cream flavoured dessert.
Mousse
Mousse is light and airy and can be made in a variety of flavours. It's perfect for summer because it's refreshing and not too heavy. Chocolate mousse is a classic favourite, but you can also try fruit-flavoured mousses for a lighter option.
Desserts that can be tried out any time of the year
There are plenty of desserts that can be enjoyed all year round! One example is ice cream – it's refreshing in the summer, and can be cosy and comforting in the winter. Another is cake – whether it's a light sponge or a rich fruit cake, there's always a cake to suit the season. And then there are classics like pudding and custard, which can be served hot or cold depending on your preference. So no matter what time of year it is, there's always a delicious dessert to enjoy!
How to spruce up simple and easy dessert recipes?
Ice cream
There are many ways to spruce up and create an easy ice cream recipe. One way is to add unique toppings. You can add things like crushed cookies, cereal, fruit, flavoured syrups or sauces. Another way to make ice cream more interesting is to experiment with different flavours. You can mix and match different fruits, nuts, and even spices to create new flavour combinations. Finally, you can also play around with the texture of your ice cream. For example, you can try adding chunks of frozen fruit or candy, or even make your own ice cream sandwiches
Cake
One way to spruce up cakes is to add some decorations (Try Dark Ganache for decorating your cakes). Another way is to add a classic Vanilla filling or any filling of your choice Finally, you can add a topping. Some common decorations include: Whipped cream, Chopped nuts, Sprinkles, Fruit slices, Custard, Jam, Mousse, Ice cream or Cheesecake
Milk Shakes
There are lots of ways to spruce up milkshakes. For example, you can add some fresh fruit to the mix. This will give the shake a boost of flavour and nutrition. Another way to dress up a shake is to add a handful of chocolate chips or sprinkles. This will make it extra special and indulgent. Or top it with an ice cream scoop of London Dairy's cookies and cream for that delicious crunch. You could also try using different kinds of milk, like almond milk or coconut milk, for a richer flavour. Whatever you do, have fun and be creative!
Hope you liked our compilation of ice cream recipes and dessert recipes for every season. Remember to keep your ingredients fresh while making these delectable treats and keep innovating on existing recipes to create your own unique version!
It's time to indulge!